Hunting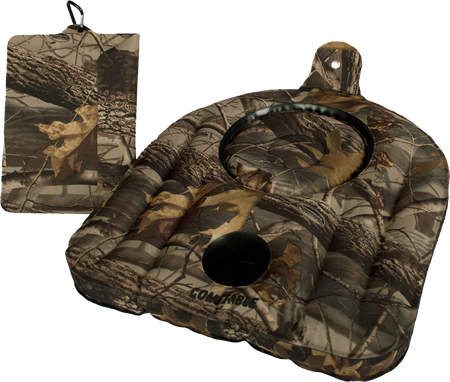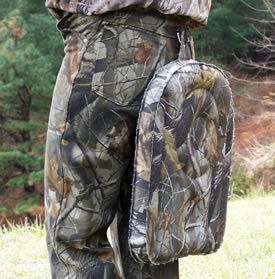 The COMFTABLE is the most compact, comfortable and lightweight hunting seat in the industry. Weighing just over 8 oz. you can take it anywhere without feeling weighed down. It comes in its own carry case with velcro closure and carabiner clip, which makes it easy to store and easy to take with you.
The air provides a Thermal Barrier for damp and cold conditions, while the recessed area takes the pressure off your tailbone and back for all day comfort.
The COMFTABLE takes only three to four breathes to inflate and the seat is fully adjustable for your own comfort.
Made of rugged polyester material for durability.  Tested to 500 lbs.
Sit quietly and comfortable all day long!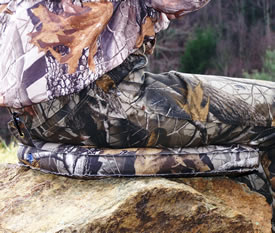 "Your air seat is as important to me as my Ammo. I am able to sit comfortable as long as needed to get the shot. If you can't sit good you don't have a shot.  THANKS, GREAT PRODUCT! "
 Tom Lopresti
Western North Carolina Mountains
"I have been Turkey hunting for over 20 years. Won't hunt without your air seat again, it kept me dry and still for hours in early morning damp conditions. I got the Big Gobbler I was waiting for.  I highly recommend your seat for any hunter!"
Scott Mahon, VT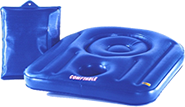 The COMFTABLE is perfect anywhere you go:

Professional – College & Youth Sports
A weekend at the Races
Boating – Canoeing – Kayaking
For Work or at Home
Camping – Backpacking – Hunting
For Tailgating or Snacking
Driving in your Car, Truck or RV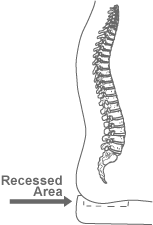 Takes Pressure Off Tailbone & Back